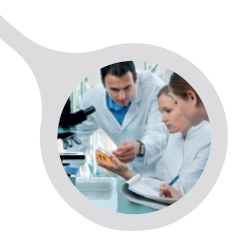 AR2i is a Contract Research Organisation (CRO)-type research and development laboratory. It elaborates chemicals analysis methods in the pharmaceutical, parapharmaceutical and cosmetic fields.
AR2i was founded in 1994, and consists of a team of experts (pharmacists, chemists, etc. ) from industry, hospitals and universities.
AR2i can support you through a comprehensive approach which will prove the quality of your drug and cover all aspects of your project: from analytical development to marketing authorisations, via routine checks.
AR2i operates in 3 spheres of expertise, enabling it to provide its customers with a wide range of services.
LABORATORY DIVISION

Analytical Development : development of analytical methods, method validation, ICH stability testing, dissolution testing, ICH Q3D testing, etc.
Quality Control : analysis of raw materials and finished products
REGULATORY AFFAIRS DIVISION

Technical/regulatory advice
Project coordination and monitoring
Marketing authorization applications: auditing and drafting
CTD submissions
BATCH CERTIFICATION DIVISION

Batch Certification of human use medicinal products
Batch Certification of human use investigational medicinal products
RESEARCH AND DEVELOPMENT DIVISION

Cosmetic formulation, WPE® process
Scientific instrumentation
Study of exhaled breath biomarkers
 Pharmaceuticals, Chemicals, Cosmetics, Medical devices
More than 25 years' expertise based on all types of pharmaceutical forms, drugs substances and drug products, with more than 100 customers every year
Team of highly qualified experts (chemical engineers, pharmacists)
Competence acknowledged by institutional bodies, including GMP approval by France's ANSM, and Research tax credit approval (CIR)
ANSM-approved pharmaceutical drug control laboratory
Efficient analytical facility covering over 1,000 m²